REI PEAK UL CF TREK POLES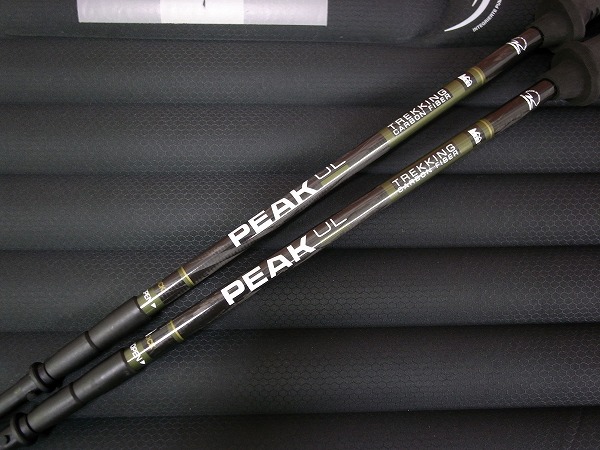 REI
PEAK UL CF TREK POLES
REIの伸縮式カーボンポールの長い方。 短い方(REI
Peak UL Carbon Compact Trekking Poles
)はさらに1oz軽量。
実測重量 360g(ペア、バスケット無し)
       374g(ペア、バスケット有り)
REIで、$139.00→$54.83(60%off)+送料$33.00=$87.83
手元の
コイツ
には135cm~140cmのポールが要る。
オプションのfront pole(easton製、5oz、140cm)も持ってるけど、やっぱトレッキングポールで兼用したいからね。
Thanks for INTEGRIERTE PUMPE!

ピース!!(・ ・)v
-----
Specification Description
Weight (pair) 12.5 ounces
Shaft material Carbon fiber
Maximum length 55 inches
Minimum length 27 inches
Shock absorbing No
Grip material EVA foam
The REI Peak UL line™the lightest, strongest trekking poles out there! Made for minimalist backpackers and adventure racers.
Small-diameter carbon fiber creates ultralight poles that damp vibration and retain strength over a wide temperature range
Extra-strong DuoLocks™ provide a big boost in performance
DuoLocks internal locking mechanisms apply a wide area of pressure against pole walls to lock in length adjustment
DuoLocks showed 50% more holding power than other locking mechanisms during REI lab tests
DuoLock's reliability enhances stability, eases length adjustments and offers a compelling reason to upgrade to Peak UL poles
Three-section telescoping poles extend to a maximum length of 55'' and compact to 27'' for easy storage and transport
Red ''stop'' ring indicates the maximum point to which poles should be extended
Ultralight EVA foam grips with an ergonomic, contoured shape and adjustable padded neoprene wrist straps provide miles of comfort
Fitted with vario trekking disks and extra-durable tungsten-carbide tips; rubber tip protectors included
関連記事